The Science of Genuity
Genuity
Genuity Makes Farming Extraordinary
Monsanto's Genuity brand makes complex products to solve complex problems. Its genetic traits are specifically bred and designed to improve the yield potential, disease- and insect-fighting powers, and drought resistance of corn, soybean and cotton crops. It's an extraordinarily precise science, with extraordinary results.
However, while farmers knew that the Genuity brand stands for innovation and performance, they had no idea how one led to the other. The brand's
messaging had primarily focused on the results. Genuity had never described their proprietary science in clear, plain language.
To shed light upon just how extraordinary Genuity's trait science is, and to show how this science actually works, HLK created a series of videos that translated difficult concepts into easy-to-understand illustrations of the power deep inside each seed.
Genuity SmartStax
See how Genuity SmartStax corn makes farming extraordinary
Studying and Storyboarding the Science
Plant genetics and microbiology are heavy subjects, to say the least. The Genuity brand team was our go-to expert, armed with tomes of information. They immersed us in every detail — and answered lots of questions — about the complicated science of Genuity SmartStax, the corn trait that was the star of our first video.
Once our brains were saturated with SmartStax facts, we distilled this knowledge down into a script that anyone could understand. At the same time, we developed the visual cues that would illustrate the science and bring the script to life.
Maintaining Extraordinary Production Value
For the first two videos, we partnered with Buck, a world-class production studio. With their exceptional motion graphics and design expertise, they helped us turn our storyboards into agricultural, educational, fully animated art. We ended up working with Duel for the remaining videos. Despite the change in partners, we produced the entire series with consistently high standards and a cohesive look and feel.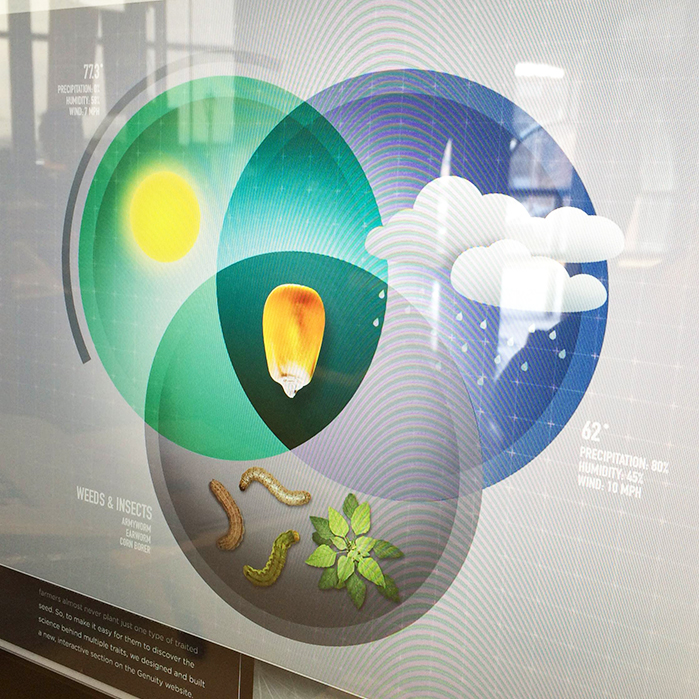 "How do you turn incredibly complex science into easily understandable narratives? By diving in headfirst and not giving up until it is exactly right."
Genuity VT Double Pro

Powerful above-ground protection

Genuity Roundup Ready 2 Yields

Precision trait insertion

Genuity Droughtgard Hybrids

Adapting to drought stress
Experience the Science Online
Because of variations in soil and other factors, farmers almost never plant just one type of traited seed. So, to make it easy for them to discover the science behind multiple traits, we designed and built a new, interactive section on the Genuity website.
But the Science section is more than just a video library. Each trait page houses the video, a breakdown of even deeper details for farmers to explore, and supplemental content like tips and other tools that can help farmers better manage their fields.
Wireframes
Getting this part right was crucial. We needed to ensure the Science section seamlessly fit in with the rest of the Genuity site, while delivering a usable experience and promoting exploration of content.
Page Navigation
Always present, but never in the way, the left navigation helps users keep track of where they are as they scroll, and see what might be coming next.
Video Elements
Elements from the video serve as anchors for more in-depth information, and give consistency to the entire experience.